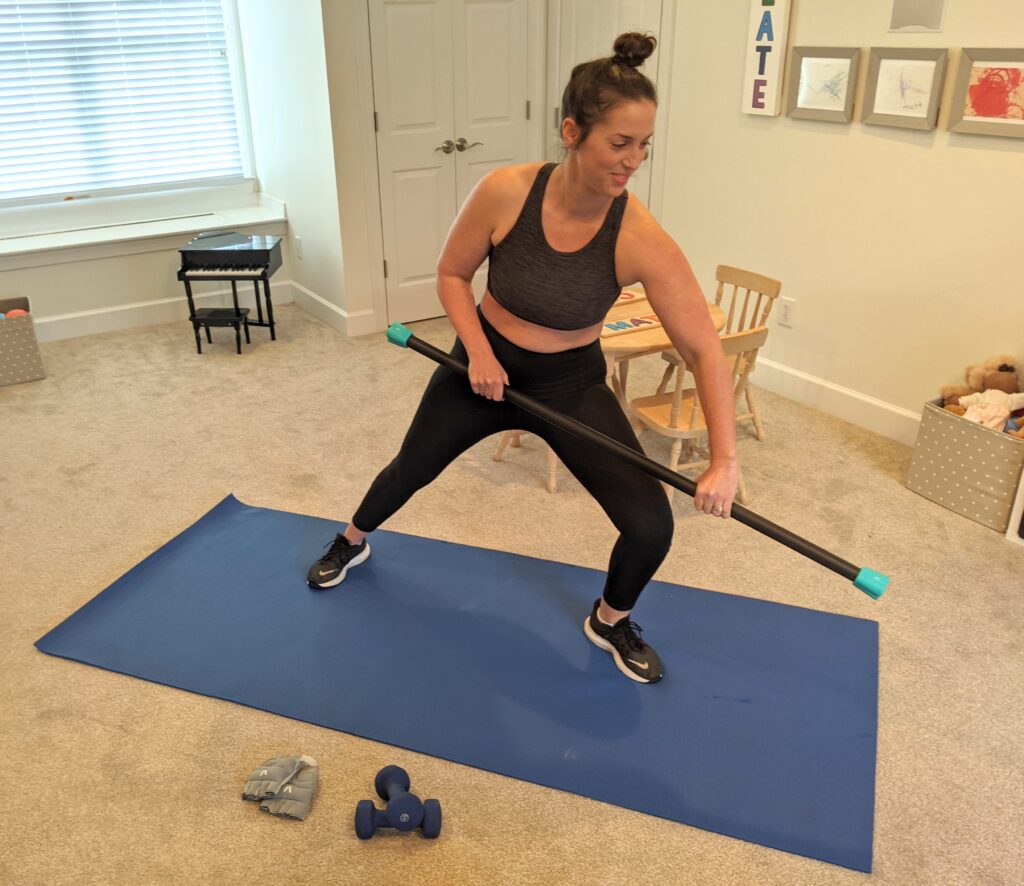 I've never been a home workout kind of person. As a triathlete, I'm drawn to running, biking, and swimming outdoors. When I'm not outdoors, I love the energy of classes at the gym and the motivation they provide. Over the years, I have focused a lot on cardio but never strength unless you count going to CrossFit once every other month. In 2020, with all it brought, I needed strength. A strong mind to keep sane and a strong body to keep up with my toddlers. As gyms started to close, I turned to home workouts.
I wanted to create a blend of the outdoor activities I loved but also bring the energy of classes to my home. I quickly found that I didn't need a lot of equipment to create that wanted change in my life. As we all adapted, thankfully, so did wellness companies. Through a variety of fun, engaging online workouts, I was able to incorporate a more well-rounded approach to fitness.
I'm enjoying running, biking, swimming, and hiking, while also adding strength training, yoga, pilates, and kickboxing. I am gaining strength in both my mindset and my body. I'm feeling more energized and bringing that energy to my days. For someone who hated squats and could easily be injured by a back lunge, I'm appreciating that newfound strength and gaining confidence with each class. All of this in the comfort of my own home and the beautiful running paths of Tennessee. For those looking to create that change, here's how I'm making home workouts work for me and a few of the lessons I've learned. 
HOW TO GET STARTED
If you are new to working out, most workouts can be done with just your body weight and household items like canned vegetables and a broom. If you had to ask me the 2 must have items, it would be a stainless steel water bottle (raise your hand if you like cold water!) and a yoga mat. Creating your "home gym" is a process. I've been gathering items over the years and added a few more this past year. I'm still dreaming of a Peloton and I'll definitely be getting a kettle bell soon. Below is my home workouts checklist with the equipment and services I'm currently using. 
My home workouts checklist:
Equipment
Yoga Mat
Resistance Bands
Running Shoes
Road Bike
Elliptical Machine (I like having one home machine for workout options)
Double Jogging Stroller*
Double Bike Trailer*
Services:
*Only needed if you have young kiddos and still want to get out of the house and get your workout on!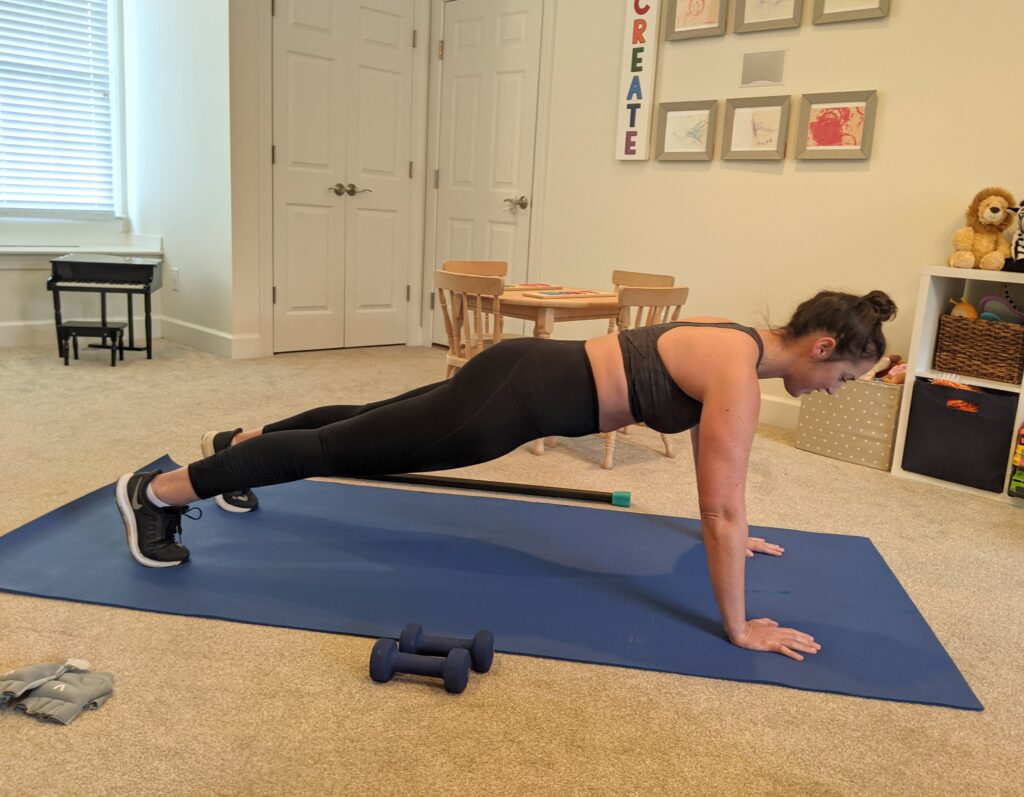 WHAT I'VE LEARNED
JUST GET MOVING
I used to think that I needed a full hour to get in a good workout. The problem is that I didn't consistently have an hour in my day, especially for someone who hates waking up early. I ended up working out inconsistently. Some days I'd be filled with endorphins and feeling great while other days I'd be craving a workout that I didn't think I had time to do. When I started to incorporate the home workout, I made a decision to just get moving.
On days that I'm busy, I'm now accepting of a 20-30 minute workout. On days that I have more time, I'll enjoy my longer workouts. For me, it's now about getting in daily movement. Choosing consistency instead of a specific amount of time. Let's all choose movement and embrace that happy, healthy, version of ourselves.
YOUR HAPPY WEIGHT ISN'T FOUND ON THE SCALE 
I recently wrote about how while trying to lose my baby weight I found my happy weight. I can't stress this enough. When using the scale as your motivation, your focus is only on the end game. Instead, think about how want to feel. What do you hope that working out more will change in your life? Dream about a lifestyle instead of a weight, and you will find a happiness that isn't found on the scale. You are not a number. Fall in love with the process, with movement, and yourself. 
WHEN YOU LOOK GOOD YOU FEEL GOOD
I've definitely had the same workout clothes for years. I don't invest in clothes, I invest in equipment. With that said, when I look good, I feel good and yes, this also is true for workout clothes! Since I committed to daily movement, I decided to invest in a couple of new outfits for working out. I found affordable activewear sets from Target and they are super cute and more importantly, are comfortable and stay put when working out. I'm now excited to get dressed and I bring that excitement to my daily workouts. 
START THEM YOUNG
What I love most about being consistent with my workouts is that my twin boys see me showing up each and every day. When Colin sees me in my workout clothes he asks if I'm going to workout. He puts on a backpack and says he's going hiking just like mama. They come to the gym with us and we swim as a family. I take them running with me in the stroller. We attach the trailer to the bike and go on family bike rides, stopping to let them play in the creek.
They are learning early that movement is fun. That health and wellness is something we value as a family. I can only hope that it sticks but for now, I love sharing my passion with them. Remember, those little eyes are watching you. What do you want them to see?
By embracing home workouts, we have more options to get moving. But don't get me wrong, when life returns to normal, I'll definitely be first in line for spin class at the gym. Embracing home workouts doesn't mean that you don't love community, coaches, or the gym!  With more options comes more movement and that is what I'm all about these days. I'm also all about learning new things so drop a comment below with home equipment or workouts that you are loving right now! Here's to moving more and finding our inner strength.