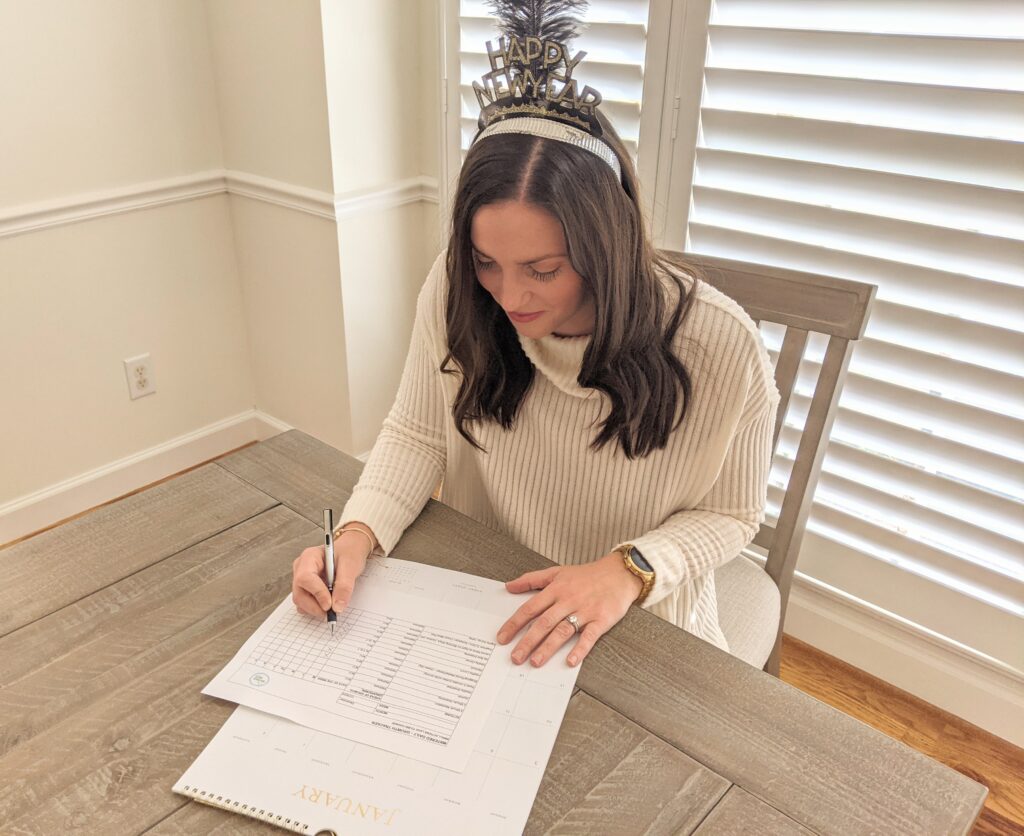 Every year I have the same 2 New Year's resolutions, I want to eat healthy and cook more. Yup, those are my annual resolutions and the 2 seconds it took to type that is approximately the amount of thought I give those resolutions before the ball drops on New Year's Eve. When I wake up on January 1st, I'm able to string together a few successful days but by Saturday I'm searching for Lean Cuisines in the freezer and by Monday, I'm eating chicken nuggets with the kids. 
Growing up, I always noticed the divide of women in the kitchen and men watching football in the other room. Maybe it's my brother's boisterous laugh but I always assumed the guys were having more fun. Being someone who likes fun, I gravitated to football and not the kitchen. I survived on Lean Cuisines and then when I met Brian, I excitedly transitioned to having my own personal chef.
When our twins entered the world my personal chef quickly exited. Nights of sleep deprivation combined with the demands of 2 babies left neither of us with the energy or desire to cook.  With no food being served, I found myself again searching the freezer for Lean Cuisines and I've never turned down a chicken nugget. As the boys have gotten older, I've started cooking occasionally. Turns out I actually like cooking and if needed, can whip up a birthday cake in a pinch. Even though I have the ability to cook, I've struggled with consistency as my motivation comes and goes depending on the day. 
So here we are, heading into 2021 and guess what, my 2 resolutions are still to eat healthy and cook more. The difference between this year and last? Me. Over the past few months I've been been reading about small habits and overall behavior change. I recently recommended the book Atomic Habits by James Clear and the newest book on my self-help book shelf is Tiny Habits by BJ Fogg. This year, instead of making New Year's resolutions, I'm planning them. Below is how I'm breaking down my goals and planning for 2021.
KNOW YOUR GOALS
The first step in creating a plan is knowing what changes you want to make in your life. This year has made us all reevaluate our lives, our values, and our priorities. Where do you want or need to focus your energy this year? Take some time to think of one goal that would change your life for the better. Visualize that growth and what it looks like to accomplish that goal.
For me, eating healthy and cooking more isn't about losing weight or saving money. It's about creating a routine that reduces stress, teaching the boys about cooking, and instilling an appreciation for health and wellness in our home. I see more than just a simple New Year's resolution, I see change worth planning for this year.
IDENTIFY THE ROADBLOCKS
We all go into each year with the best intentions but some resolutions seem harder than others. Something is stopping us from making progress and it eventually causes us to give up. For many years, I thought the reason I didn't cook was because I didn't like cooking. It took just a few recipes during this pandemic to rule out that theory. If I like cooking then what is stopping me? The real roadblock is the amount of time I want to invest in cooking.
Finding healthy recipes, creating a shopping list, grocery shopping and lengthy cook times, requires more time and patience than I'm willing to give. Using up too much of my valuable free time is frustrating to me and has derailed my New Year's resolutions year after year. Understanding this roadblock has been a game changer for 2021. Since that realization, I've been able to focus my attention on the next, most important step, of making change easy.
MAKE IT EASY
When something is too difficult, instead of celebrating the wins we are immediately accepting defeat. Before you give up, think about how you can make it easier to do. In Tiny Habits by BJ Fogg, he talks about 3 ways to make change easier. You can increase your skills, get additional tools or resources, and/or make your actions smaller. Think about those roadblocks. What would make this change easier to accomplish?
Knowing that I have time restraints, I turned to Google for ways to make cooking quicker and easier. During that search I found eMeals. An app that allows you to choose from different types of meals (including low calorie, quick and healthy, etc.), automatically generates a shopping list, and allows you to send that list directly to the grocery store for curbside pickup. This falls under the tool/resource category and immediately made that first step to cooking, easy. 
Each person will have different goals and different needs to make it easier. When you make it easier, you'll be celebrating those small wins on day one and continuing to celebrate day after day.
SMALL ACTIONS
When it comes to resolutions, we all want to see change fast. Unfortunately, change doesn't happen overnight. We have to be patient and take it one small, consistent action at a time. If you want to run a marathon, you aren't going to start with 26.2 miles. You might however, start with a 2 minute jog.
I've spent the last week testing my process and planning for my New Year's resolutions. I've broken down my week into small actions including eMeal planning, curbside grocery pickup, and a daily meal checklist of quick, healthy meals. These actions are small, easy, and hopefully the perfect recipe for success.
STAY ACCOUNTABLE
You won't see change without daily action and it's important that we we are honest and accountable for the effort we are putting in. Whether it's a tracking app, accountability buddy, or the Watered Daily growth tracker, find a tool that allows you to stay accountable and better visualize that growth.
I'm a visual person so in addition to the eMeals app, I downloaded a meal planning template so I could write down my meals for the week. The meal plan hangs on my fridge and is a daily reminder of my goals. When thinking about accountability, don't think about it as a negative. Think about it as a helpful tool to see when adjustments need to be made. If you aren't able to be consistent with your actions, it's time to make things easier.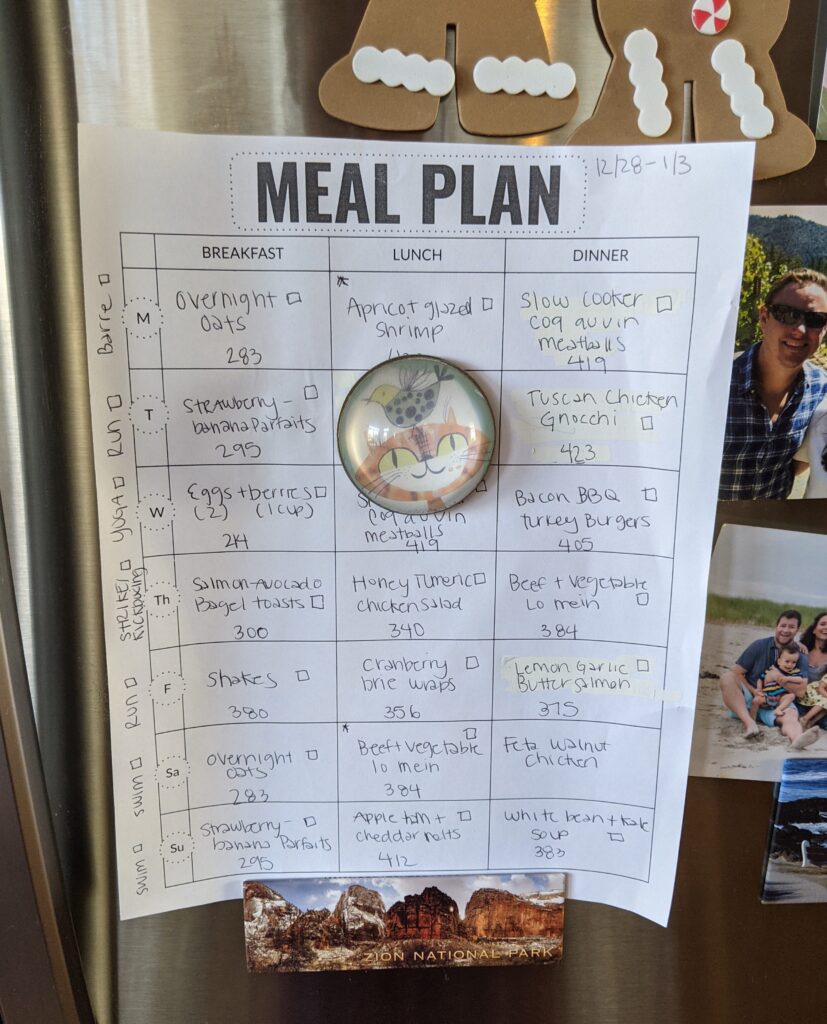 As I head into 2021 I'm hopeful that this is the year I am finally able to accomplish my goal of eating healthy and cooking more. I'll be sharing a full update in February but in the meantime, you can follow my journey on Watered Daily's Instagram. Wish me luck! For anyone who is planning their own New Year's resolutions, remember to know your goals, breakthrough the roadblocks, make it easy, and stay accountable for those small, daily actions.
Wishing everyone a happy New Year! Cheers, to reaching goals, spreading kindness, continued health, and hopefully soon, hugs. When it's safe, lots and lots of hugs.