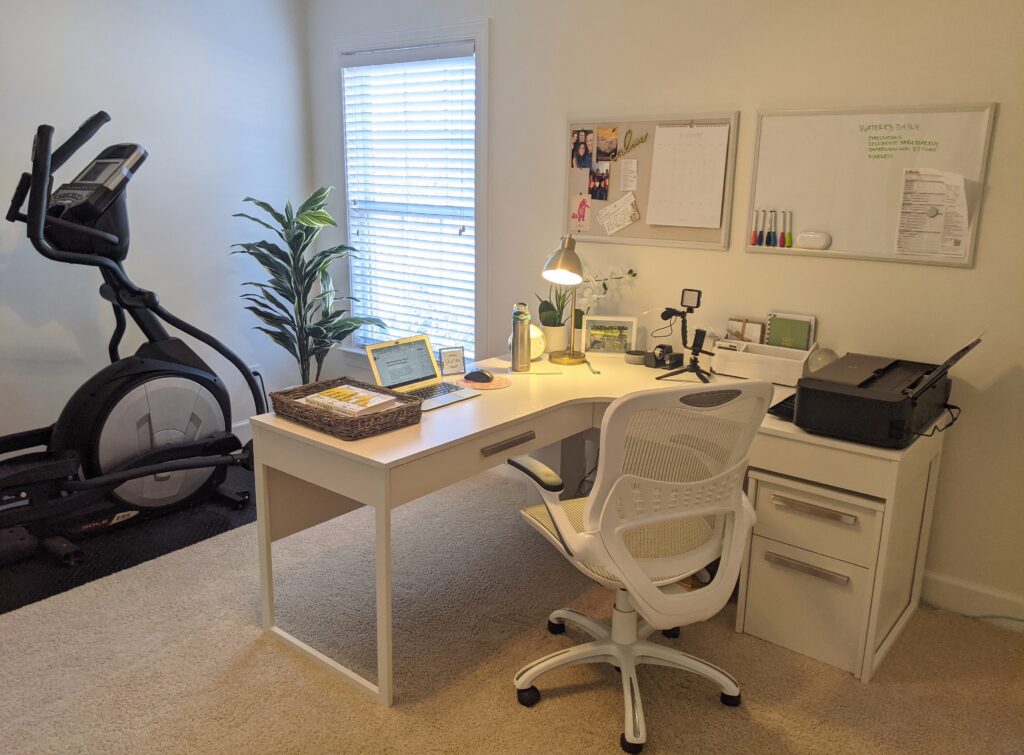 After my twins were born, I sought out help for my postpartum depression. I started seeing a therapist to gain a better understanding of my feelings and more easily cope. One of the first things she asked me was where do you go to be alone in your home. Seemed like an easy enough question. The problem was that I didn't have an answer. I didn't have a go-to space of my own that made me happy. It was then that I realized I needed to give myself permission to take up space.
Before kids, I used to have a small desk area. It was where I worked from home, opened mail, wrote notes on my whiteboard, and had my little trinkets that made me smile. It was a small space but all mine. When we welcomed our boys, that space became storage. We were bursting at the seams and it made sense to use that space to make room for our growing family. The guest room became their nursery and I lost my favorite bed in the house and where I would occasionally escape for a good night's sleep when needed.
After 6 months at home with our boys, we welcomed a nanny as I headed back to work. When at work, it was nice to be me again. Focused on my career and having adult conversations. When working from home or taking a sick day, I was never alone. The boys, nanny, and my work from home husband, were always around. I tried to take up space in my home but the only place I had to go was our bedroom. Stick one toe outside that room and I'd be pulled in 5 different directions. I didn't realize it then but while the bedroom was functional, it wasn't my own. It was a shared space and I was using my allotted time.
After that therapy session, I kept thinking about my need to take up space. Not only physical space in my house but personal space in my life. I needed space and time for myself. Time to rest and restore, explore new hobbies, and simply put, I needed to take up space in my life. Below is how I'm learning to make time, create space, and give myself guilt-free permission to be me.
MAKE TIME
As moms, we are always busy, and when we do have a free minute, there are about 10 things on our to-do list that can always fill the gap. As someone who loves a to-do list, I am guilty of putting too many things on my list and feeling bad when I don't complete them all. I like being productive but there is a difference between creating a balanced day and simply a busy day. When I'm busy, I'm getting things done. Check, check, check. When I feel balanced, I've planned my day to include not only what I need to do but finding time for what I want to do.
In order for me to find time and take up space, I had to rethink my days. First, I think about what I need to do. Not just a list of to-dos, but what would cause my career, family, or friendships to falter if I don't get something done. I realized that there were a lot of tasks that could easily be pushed a day, or week, in order to free up time for me. They were something that needed to get done, eventually.
Next I think about what I want to do each day. How am I going to make myself a priority? Do I want to workout, read a book, watch a TV show, do a face mask, or meet a friend for coffee. Don't choose something you feel obligated to do but something that will bring you joy. What would make my day better and how much time does it take?
I then start planning. I create my daily to-do list by adding in all the things I absolutely need to do and one thing I want to do. If I feel I have extra time, I'll add some of the things that need to be done, eventually. I don't add anything willy nilly. For me, it's all about planning. From sunup to sundown, I've planned my day. Some days I'll wake up early and workout, other days I know I can wait until the afternoon. Each day is different, and not always perfect, but I always make time for me.
CREATE SPACE
I didn't realize the importance of space until I had kids. All moms joke about how their kids follow them into the bathroom or they lock themselves in the pantry to sneak a cookie. Let's be honest, we've all been there. I'm still there. I only get about 2 minutes before I hear Colin say "where's mama?".
When you always have a little one up in your space, the need for a space that is all yours, is real. We recently moved to Tennessee and one of the perks of moving out of California is more space. I have an office that is all mine. It's the place I go to work on my blog, jump on the elliptical, or simply just enjoy all my trinkets that make me smile. I have my space again and it feels good.
If you don't have actual space, you can still make a special space. Whether it's creating a small desk area, a reading nook that you love, an outside sitting area for sunrise, or simply putting your favorite candle by the couch to light when taking a moment to yourself. Take up space in your own home and set boundaries for that special space. No Tonka trucks allowed.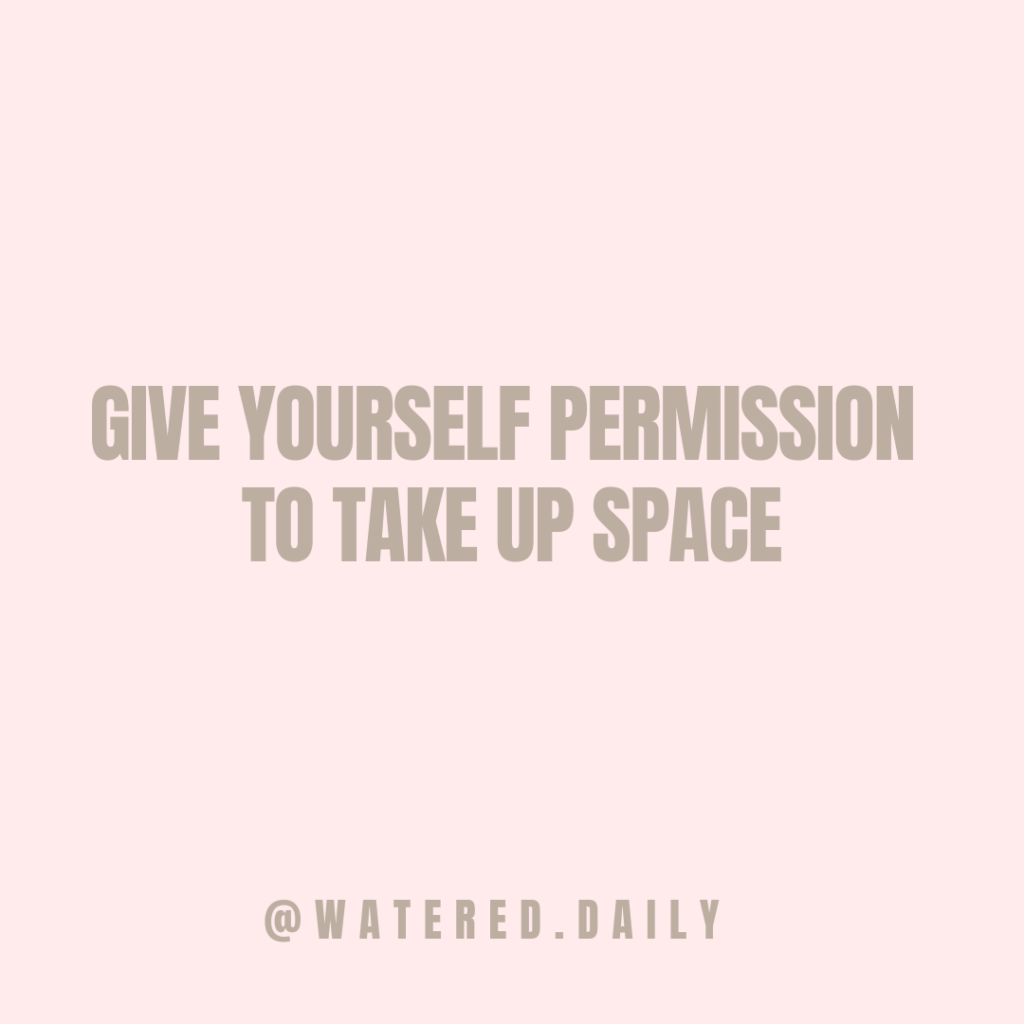 GIVE YOURSELF PERMISSION
For the longest time I felt guilty taking time for myself. Every time I took that time, I felt like I owed a big thank you to my husband for supporting me or to the nanny for watching the kids. It was a feeling that they were gifting me with that time. Recently, I started to believe that I am worthy of that time. I deserve to be a priority in my own life and take up space. I still say thank you to those that support me and allow me to have that time to myself but I no longer feel guilty. I'm making myself a priority and I hope that you will too. Give yourself permission to take up space.
I encourage us all to make time for ourselves daily, create a special place in our homes, and give ourselves permission to take up space in our own lives. When we fill our own cup first, the more love we will be able to pour into others.