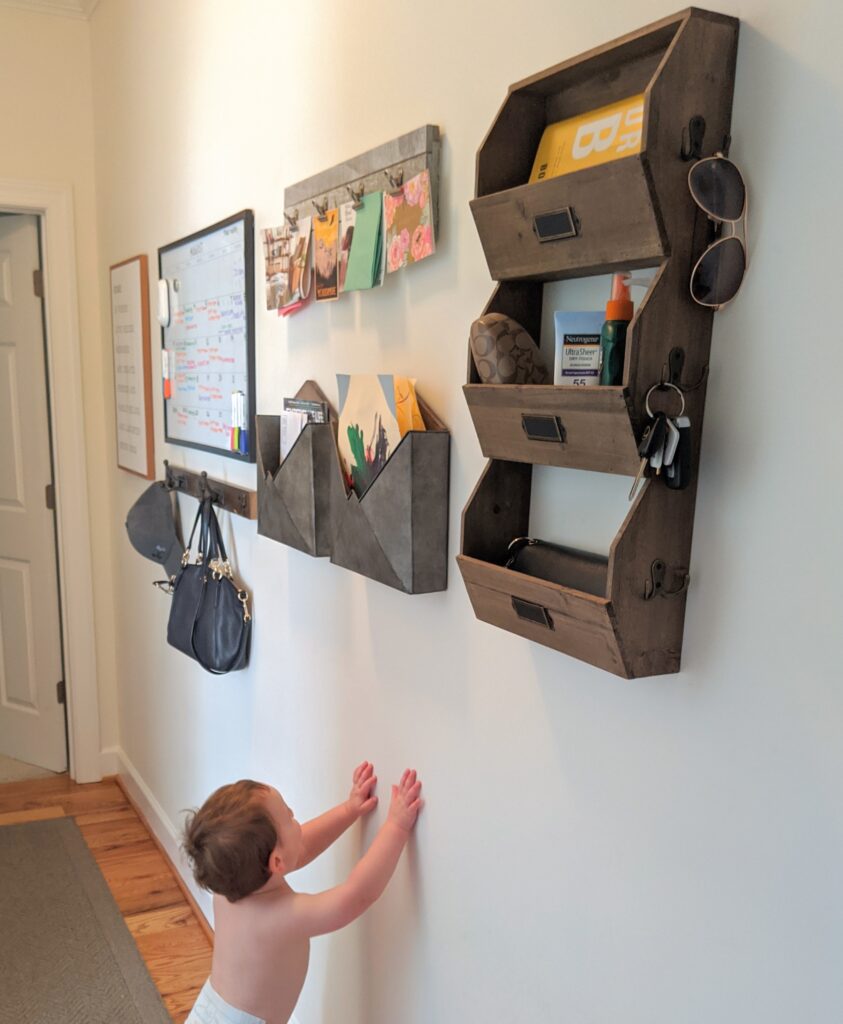 For as long as I can remember I have lived life at my own chaotic pace. Regularly running 5 minutes late because I couldn't find my purse or keys (or both!) and then cue the anxiety caused by knowing I was going to be late. I've overnighted packages because I needed a gift for a birthday party and then on the way to the party, stopped at the store to pick up the food item I was supposed to bring. Always feeling one step behind and racing to catch up, I needed to be more organized and take control of my busy days.
I secretly wanted to be one of those moms that bakes cookies for her kid's class party. If anyone appears to have organization nailed, it is the moms that on top of their day to day activities have time to bake cookies. Prior to kids, I'm the person that for my office potluck delegated the cooking of my appetizer to my husband. Everyone loves his bacon-wrapped dates and I didn't have the time to do it myself. When we found out we were expecting twins, I wondered how I would manage it all. If I didn't have time for bacon-wrapped dates, how could I handle twins?
When I was pregnant I read a lot of books to help prepare me for the eventual tornado that would sweep through our house. Twins bring a special type of chaos because while the saying is true, "double the blessing, double the love", you are also doubling everything else including diapers, meals, naps, and in a flash, you see your day slipping away from you. I remember one of the biggest tips for new moms of twins was to put them on a schedule. If they eat and sleep at the same time then you can better plan your day. And let me tell you, boy were they right.
For us, the schedule gave us structure when so much was unknown. We went from the whirlwind of twins to more of a strong breeze. We were able to plan outings around their awake time, prep diaper bags in advance, anticipate meltdowns (well not all meltdowns), and knew when it was time to head home. In a time when I was my busiest, I became the most organized and efficient version of myself.
I've learned that being organized helps you more efficiently use the time in your day, better manage the unexpected, and reduce unwanted stress and anxiety. While being organized started as a survival tool for twins, it has now become ingrained in my day to day. Below are 3 tips I use for organizing busy days.
CREATE A COMMAND CENTER
I first saw the idea of an organizational wall when my friend Brianne shared it on Facebook. She is a woman who is organized and gets things done so of course, I instantly fell in love with her idea and made a wall of my own. This organizational wall is now my command center and the go-to place for all of our daily needs.
Below is a list of items that are on our wall. This worked well for us but each family has different organizational needs. Have fun with it!
Motivational Quote or Mantra
Large Dry Erase Magnetic Whiteboard Calendar
Multi-Color Dry Erase Magnetic Markers and Magnetic Eraser
Wall Mounted Clips
2 Mailboxes (Inbox and Outbox)
Hanging Storage Bins
Hooks
When thinking about your command center, pick a place that is centrally located. You want to be able to come in and drop your keys, purse, mail, etc. If you have to go too far from where you spend most of your time, you won't use the space as intended. Your counter or kitchen table will inevitably become the resting place for all your day to day items and clutter begins to build. What I like about using a wall is that due to its size and placement, it can't become a catch-all for everything. It stays clean and functional which is key! If you don't have a wall, find a small space where you can put similar items. It's all about being organized whether it's a wall or family workspace.
For the calendar, choose a size that you can easily fill in all the things on your daily schedule. I break down my calendar into different colors. Each person and each category (service provider, reminders for school, social activities) all have a different color. This allows me to quickly scan important items (appointments, social activities) vs. reminders (garbage day, Hawaiian shirt day at school). We'll talk more about colors and calendars in a bit!
I love the mailboxes. When we bring in the mail it goes straight into the inbox. The outbox for us is used for things that need to be put away (artwork from the kid's school, mail that was opened, etc.). Wall mounted clips are great for short term storage like wedding invites, gift certificates, coupons, etc. It keeps them front and center and top of mind. For someone who hates clutter, the hanging storage bins are a perfect addition and hooks are a must. They are great for storing your daily items like your wallet, purse, keys, and sunglasses. Knowing where everything is saves you time and reduces those frantic mornings spent trying to find what you need to get out the door!
Your wall or workspace is your command center. Know it well and embrace the organized part of your daily chaos.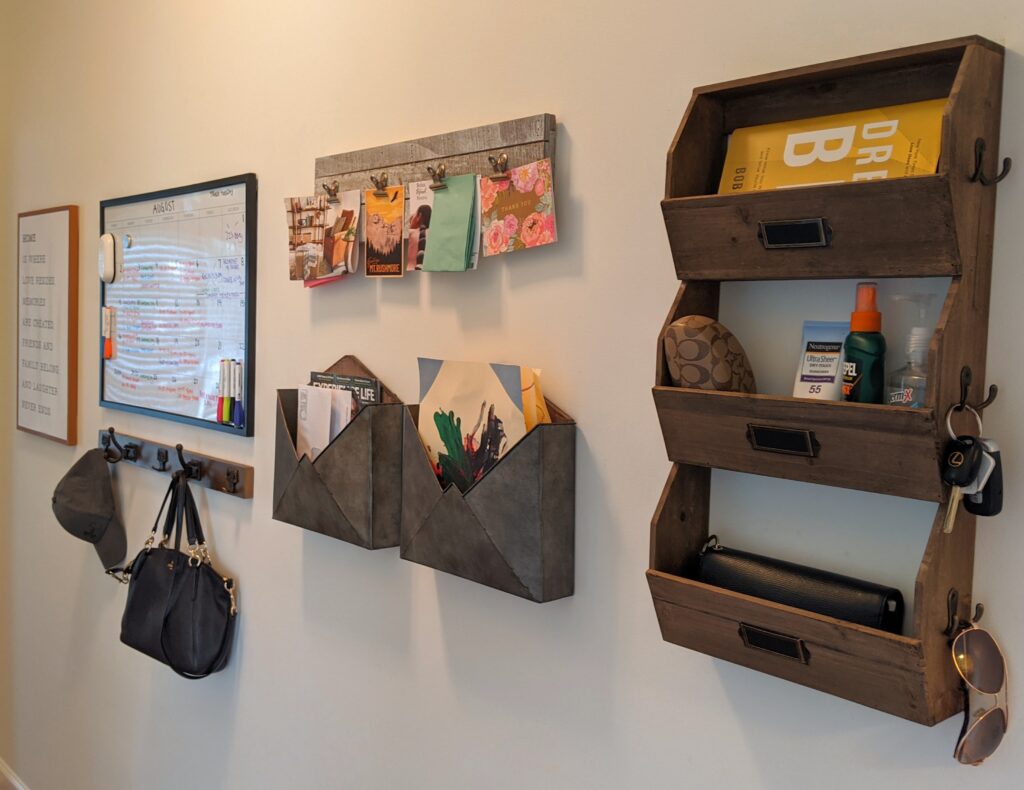 DIGITAL CALENDAR
I love my whiteboard calendar because it's a quick peek at my day, week, and month, especially when I don't have my phone. While it's great to have a calendar in the house I also need to be organized on the go. I make sure that my digital calendar mirrors my home calendar. Remember when I said we'd talk more about colors? I also use the same color coding on my digital calendar so that I can easily scan both calendars with the same efficiency. I personally use Google Calendar but other calendars also have color coding.
With my digital calendar I make sure to set notifications to remind me of upcoming events. For example, if there is a birthday coming up, I will put a reminder 2 weeks before so I can start planning (gifts, food I'm bringing, etc.), 1 day before, and 2 hours before so I can make sure that even if I forgot there is still enough time to shower and arrive on-time. The calendar is my overall planner but my to-do list is where I really stay focused.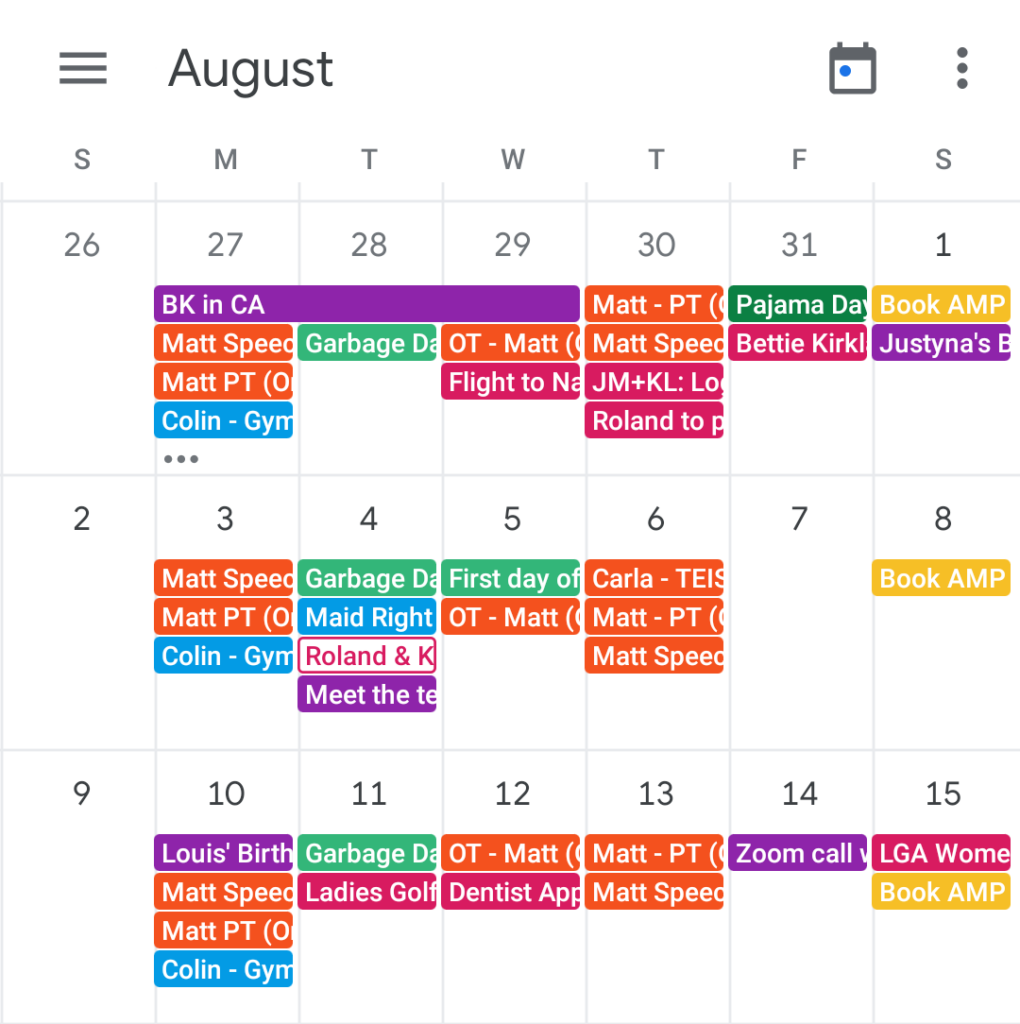 DIGITAL TO-DO LIST
For day to day tasks I use ToDoIst. I've used it for years and if you know me, I've probably tried to tell you how great it is on numerous occasions. A digital to-do list is great because you can easily add tasks anytime, anywhere. I add everything I need to do the days, weeks, and months ahead. If I have a barbecue coming up I'll add the event to my tasks. I'll then add an additional task 4 days before the event to remind myself to go grocery shopping. I'll add one last task 1 day before to make the salad I'm bringing to the BBQ. All of these features (and more!) are available with the free version.
Nothing is too small of a task. If you want to accomplish it, put it on the list. Each night I look at my to-do list and plan for the next day. When I feel prepared, I sleep better and wake up ready for the next day!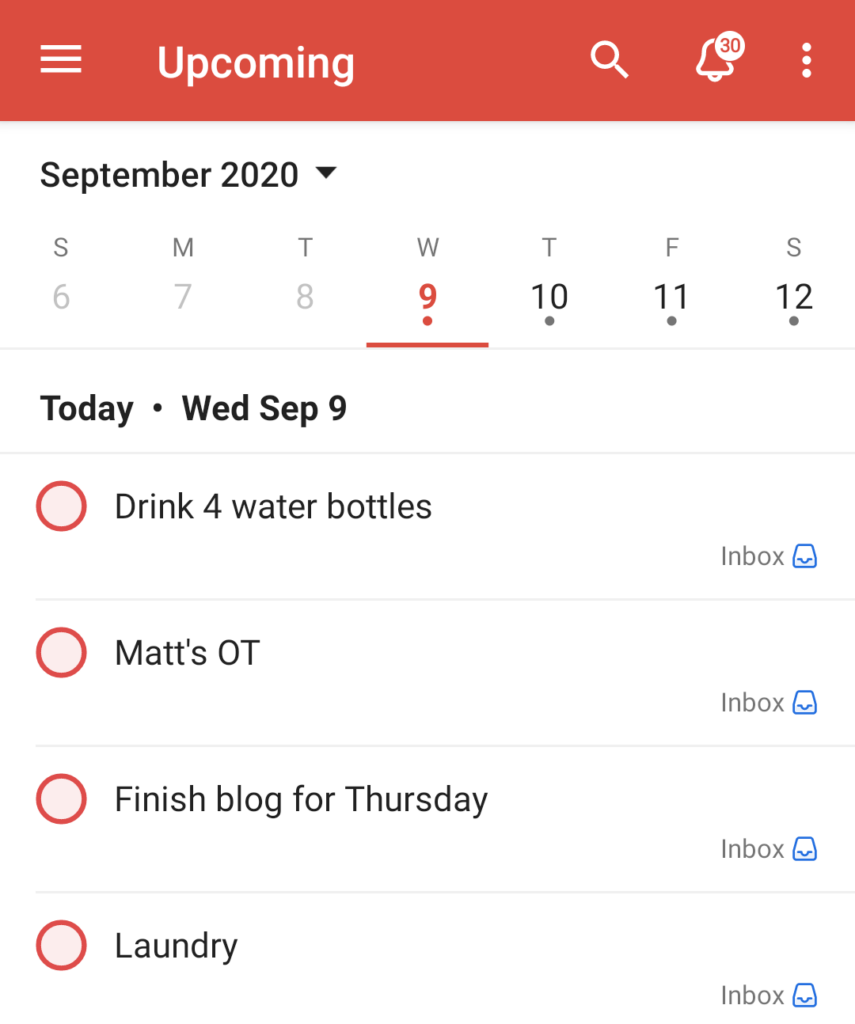 When you make organizing a priority you take control of your days. No longer are you rushing through life wishing you had a little more time. You become more efficient with your day to day activities and are able to do more with your valuable time. Try these tips for a month and see what it does for you! You might not bake those cookies for your kid's class but you'll definitely have a task to buy cookies the day before (not on the way to school) and that party in your calendar! Welcome to organized chaos!
I would love to hear how you stay organized. Share your tips in the comments!