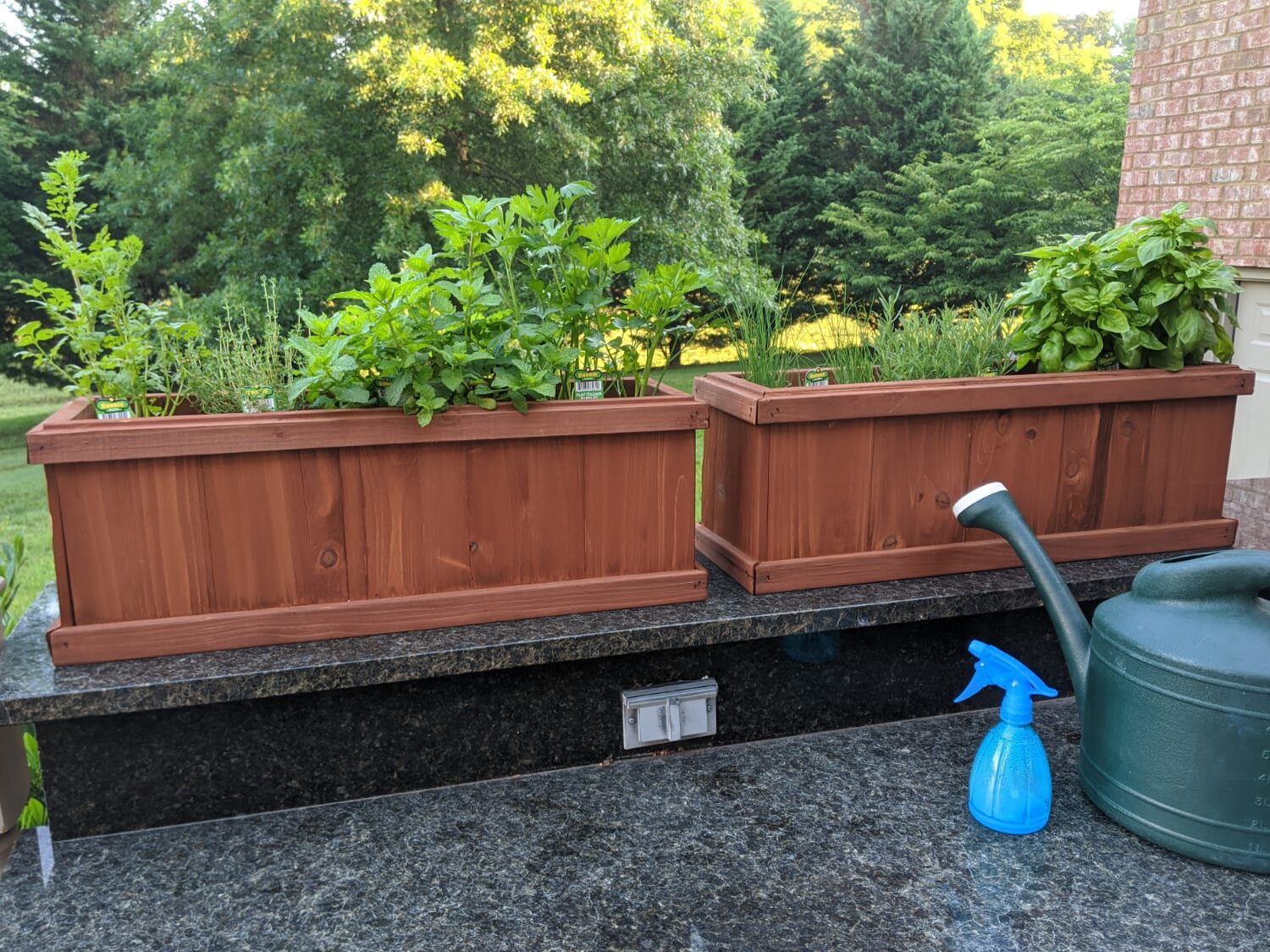 Well, I finally did it. I planted my own herb garden! If you know me, then you know since childhood, I have had a strong dislike for gardening. I vividly remember one time when my mom asked me to remove the dead leaves that had fallen into our garden. With each handful of leaves I would get the pleasure of an up close meeting with a creepy crawler. The jolt of fear that went through my body with each encounter was enough to keep me away from gardening for the rest of my life. A lifetime seemed a bit dramatic, so when I started on my journey of growth, becoming one with dirt and a shovel moved to the top of my list.
I have always admired herb gardens from afar. I scrolled through Facebook and "liked" posts from those who took the time to create them but happily maintained my distance through the power of social media. My interest in herb gardens was piqued when I watched Gordon Ramsay's MasterClass titled Gordon Ramsay Teaches Cooking Part 1. He spoke so passionately about fresh herbs, their aroma, and how much they enhance your dishes. I then watched Ron Finley's MaterClass on gardening. He too spoke to the power of fresh herbs but also went into how to grow your own herbs, create planters and so much more! Definitely a must watch for those looking to learn from the "Gangsta Gardener" himself. I decided that if they could both elicit that much passion about herbs through a phone screen, then I had to see what all the fuss was about!
After years of boycotting gardening, I was ready to make my triumphant return. This desire to learn new things and get out of my comfort zone started with a challenge. I talk about this challenge in my recent post Reignite your Passions with 3 Simple Actions and our need to continue to grow. Who knew that something as simple as an herb garden would instill an appreciation for food and create a ripple effect of new interests in my life. Below is how I started my herb garden and the unexpected lessons I learned.
HOW TO GET STARTED
After creating a checklist, I went to Home Depot and got the supplies I needed. I had a shovel and gloves but needed a planter box, potting soil, and the herbs. When just starting out, I suggest getting seedlings (young plants grown from a seed). With seedlings, you know your herbs are already growing so you just need to give them a new home where they can continue to flourish.
My herb garden checklist:
2 Rectangular Planters (40″x12″)
2 Bags Nature's Care Organic & Natural Potting Mix with Water Conserve
Hand Shovel
Garden Gloves (Optional but also make you feel like a pro)
2 Sweet Basil Bonnie Plants (19.3oz)
2 Flat Italian Parsley Bonnie Plants (19.3oz)
1 Rosemary Bonnie Plants (20oz)
2 Onion Chives Bonnie Plants (19.3oz)
2 Cilantro Bonnie Plants (19.3oz)
1 German Thyme Bonnie Plants (19.3oz)
1 Sweet Mint Bonnie Plants (19.3oz)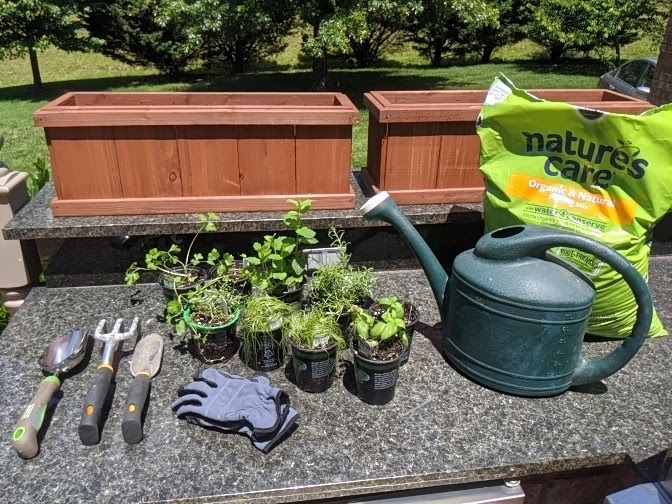 After filling the planters with the potting soil I chose the location of each herb. I then removed their casing by squeezing the container and slowly letting it fall out. Don't pull them out or you risk ripping the herb from its roots. Make sure to open the soil and break up the roots (give the dirt a little squeeze and gently free the roots from the bottom of the root ball) so that they will happily adjust to their new soil. Make a space in the soil, place in the herb, and add any extra soil you need to fully surround the root ball. Last, water! Yes, it's that simple. You now have an herb garden!
WHAT I LEARNED…
IT'S MORE THAN JUST HERBS
I was surprised with how relaxing, almost meditative, it was from start to finish. For someone who loves the outdoors, this was another way to get outside and connect with nature. I also immediately felt a sense of pride. I had planted my own herb garden and it is something that continues to provide for our family, giving us so many gifts.
TRUST THE EXPERTS
If you are wondering, Gordon and Ron were accurate with their passionate description of fresh herbs. The aroma of fresh herbs is by far my favorite part of cooking. I'm constantly making my husband (or anyone else around me) smell the herbs when pruning. After appreciating the aroma, it's time to start cooking. We've used the cilantro for guacamole, mint for Moscow mules, basil for caprese stuffed chicken, and parsley for a cucumber and tomato salad. The list goes on and we are only 2 months in!
DELICIOUSNESS ON DEMAND
Have you ever had a recipe that calls for herbs and you forgot to grab them at the store? Or you need the smallest amount of parsley and have to buy an entire bunch that sadly gets wasted? An herb garden offers deliciously fresh herbs and the exact amount you need. It's a combination that is simply unbeatable, and it's a simple pleasure that I've grown to love.
GREEN THUMBS START EARLY
An unexpected gift was how much our 2 year old boys love it. Colin asks daily to help water our herbs and they both love the squirt bottles I use to mist the leaves. It is now an activity I share with my boys and for me that's priceless. I hope that by teaching them young that herbs are fun, overtime they will foster their own green thumbs or at the very least, simply appreciate the aroma and taste of fresh herbs.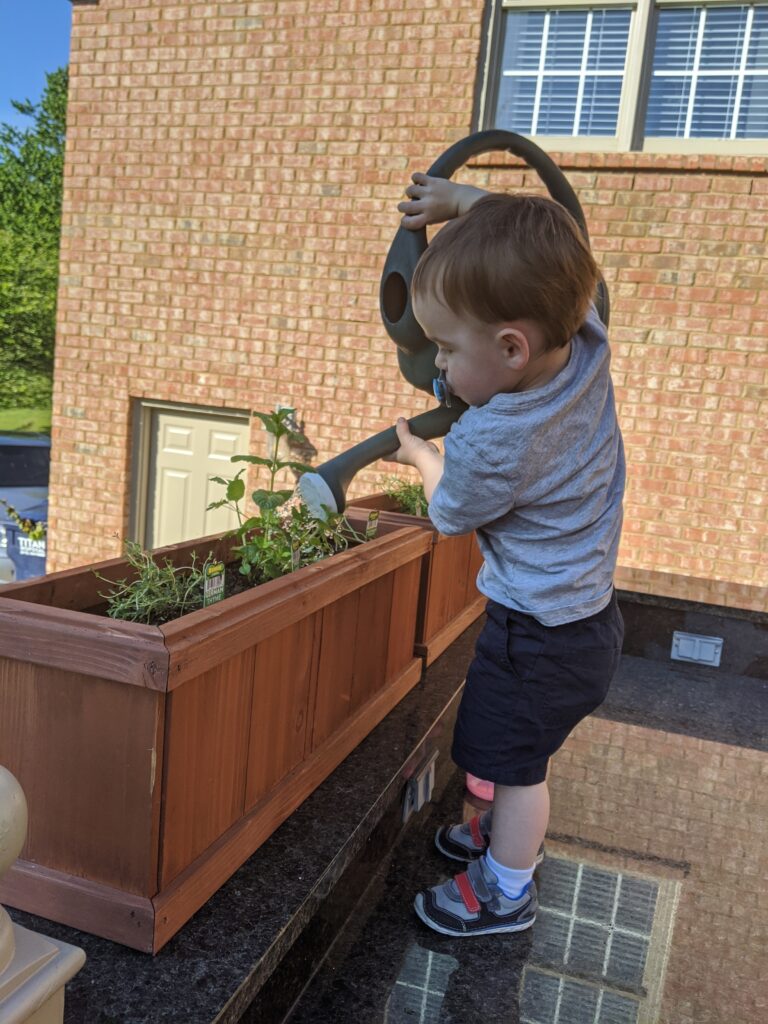 HERBS ARE THE GATEWAY GARDEN
By exploring this new activity, I have discovered a like (not yet a love) for gardening in general. I'm now removing weeds, planting plants, and pruning bushes all around our house. We have researched raised planter boxes and plan to build them in the spring for another activity to enjoy with the kids. From herbs, to planter boxes, to full blown gardening? I don't even know who this person is but I'm happy to have found this side of myself.
Personal growth is all about trying new things and seeing where it takes you. Just like the herbs it's important to "water" ourselves daily. If you've ever thought about creating your own herb garden, I challenge you to give it a try! Even if you hate it, at least you learned something and now have mint for your Moscow mules. Cheers and happy planting!