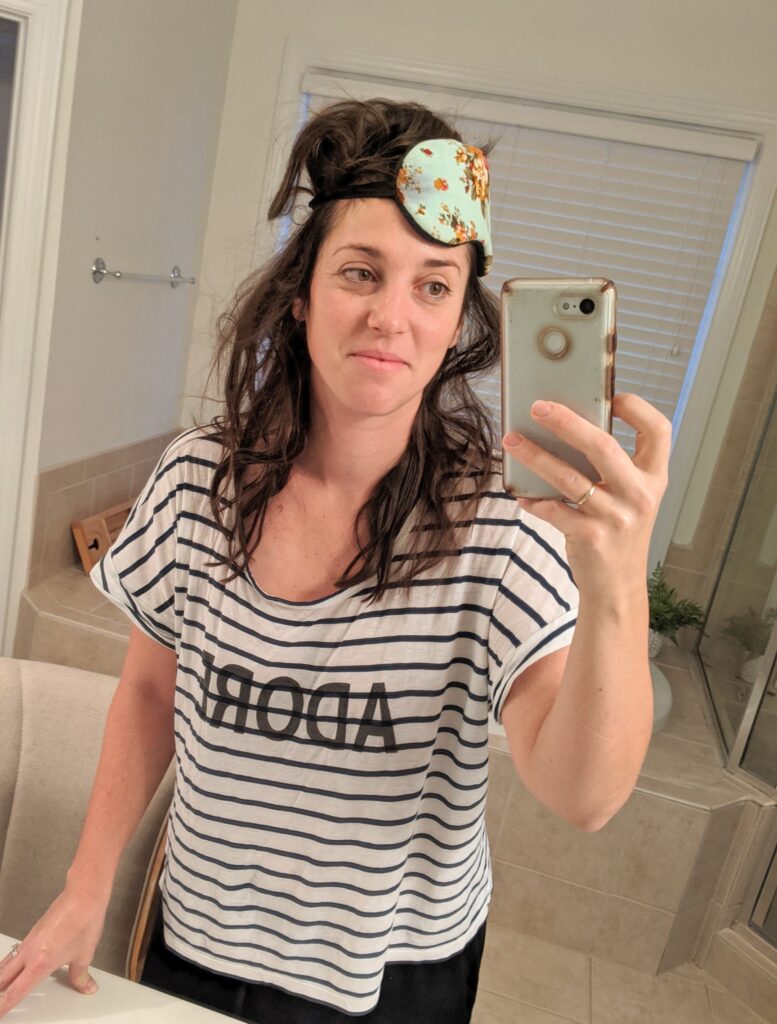 As we end this rollercoaster of a year, I'm hoping the roller coaster of emotions goes with it as well. Some days I wake up ready to take on the day. I'm focused, productive, energetic, patient, joyful and kind. Other days, I'm frazzled, unfocused, snippy, and filled with anxiety. I'd love to say that all my days are perfect, I'm perfect, my life is perfect, but it's not. Some days are far from perfect and I feel like I'm simply treading water, trying to stay afloat.
This year in particular has been tough. I'm missing family and friends, longing for hugs instead of a distant wave, embracing my new identity, coping with the uncertainty of a global developmental delay, and feeling like a protective mama bear, trying to make this crazy year as normal as possible for my toddler twins. They need their mom and want me, not the frazzled mom alter ego that sometimes tucks them in after the 100th request for their bedtime song.
We all try to put our best foot forward, appearing like we have it all together. All the time. Oh no, that's not me, that's just my frazzled mom alter ego. Definitely not me. While I can't send my frazzled alter ego away for good, believe me I've tried, I have found that these tips keep my frazzle to a friendly visit and not an extended stay.
THE POWER OF SLEEP
I'm afraid to write this for fear of a sleep regression but it wasn't until a few months ago that Matt started sleeping past 5:00AM. [Insert cheering sound here]. Losing sleep for 2.5 years has made it very clear to me that I need sleep to function. When I'm feeling off, depressed, or snippy, I can almost always trace it back to sleep. As much as I love the few hours after the boys go down, I love myself after a good night's sleep even more.
ORGANIZE YOUR DAY
If my frazzled mom alter ego is going to show up, it's going to be when I'm running late for Matt's therapy, forgot my phone, and didn't have time for my coffee. Hands down, my favorite habits are around organizing my days and reducing that frazzle. I recently posted about my nighttime and morning habits. From laying out what will leave with you in the morning to planning for the day ahead, when I'm organized I'm more efficient, focused, and productive. If you are a busy mama and always on the go, here's how I keep my chaotic days organized. I'm hoping that 2021 will bring me an organized pantry as well, but let's take it one step at a time.
EAT THE FROG
We all have those tasks that we just don't want to do. We procrastinate and then spend the whole day feeling stressed and frazzled. Next time you have one of those tasks, eat the frog. Take on that task first. Not only will you start the day feeling accomplished and motivated but you'll also reduce the stress that would have derailed your day. Don't know which one is the frog? It's the task you will literally put any other task in front of to avoid getting started. One time I found myself measuring the pantry for my 2021 project before eating the frog. Just. eat. the. frog and your your frazzled mom alter ego will go along with it. 
BE PRESENT
My husband will always ask where I went when he catches me doing the 1000 yard stare deep in thought. I always tell him to make sure that I respond before he talks or I may just miss the whole conversation. I've focused a lot this year on being present. Not constantly thinking about what's up next but focused on the right here, right now. When I give my full attention to that moment in time, that frazzled part of me subsides. I'm right where I'm supposed to be and that feels good. There will be another time to think about what's next but not right here, not right now.
GET MOVING
I'm not a fast runner but I can definitely outrun my frazzled mom alter ego. When I'm feeling the weight of the world, I take it outside and leave it there. Nothing has helped me manage my mindset as much as running. Movement of all types will help usher in those endorphins. If you like dancing, dance! If you love the meditative practice of yoga, then strike that warrior pose. Find ways to move every day and you'll feel more positive, relaxed, and hopefully a little less frazzled.
BE KIND TO YOURSELF
While I love a frazzle free day, it's been a frazzle filled year. Be kind to yourself and know that this year has been a lot for us all. It's kept us from those we love, filled our plates to the brim with some plates overflowing, pushed us to our limits in every way possible, yet here we stand. I'm patting myself on the back for simply surviving. Hug that frazzled alter ego and tell yourself that it's going to be OK because it's going to be OK. You've got this.
As we head into the holidays, give your frazzled mom alter ego some time off. Get some rest, eat the frog, be present, find joy in movement, and above all else, be kind to yourself. Me and my frazzled alter ego wish you a very happy holiday season and less reasons to be frazzled in 2021!